Star Wars X-Wing fountain pen will be the coolest thing on your work desk
I hadn't seen any advertisements for the limited edition S.T. Dupont Star Wars X-Wing collection until I read this article.  There were 1977 pens produced, the number being the year the first Star Wars film 'Episode IV A New Hope' was released, on December27,  1977.
http://www.stuff.tv/my/news/star-wars-x-wing-fountain-pen-will-be-coolest-thing-your-work-desk
https://www.wheelersluxurygifts.com/product/s-t-dupont-paris/streamline-r-star-wars-x-wing-limited-edition-silver-fountain-pen
A little research found this article as well, which shows both a fountain pen resembling an X-wing and a TIE-Fighter in their distinctive docks.
It's OK to Put Star Wars Toys on Your Desk When They're Fancy $2,000 Pens
http://toyland.gizmodo.com/its-ok-to-put-star-wars-toys-on-your-desk-when-theyre-f-1749940164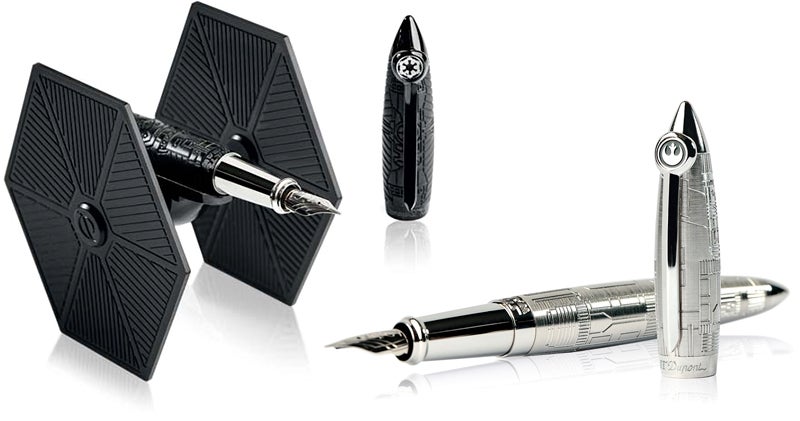 And from a couple of days earlier, for those real fans with more money than sense:
Check Out This $25,000 Levitating Light Saber Fountain Pen
They make the fighter fountain pens seem cheap by comparison, although these do feature a topaz crystal: red topaz for Vader or green for Yoda, depending on whether your personal tastes run toward good or evil.
http://www.maxim.com/gear/star-wars-fountain-pen